The massive fish was likely a female carrying eggs.
A massive northern pike caught on Mille Lacs Lake in January tied the state's catch and release record, according to the Minnesota Department of Natural Resources.
The DNR recently certified the 46 and 1/4 inch fish caught and released by angler Brad Lila on Jan. 22.
"I set the hook as the line was quickly peeling out," Lila told the DNR. "Immediately, I knew it was a very large fish because it peeled out drag and there was no stopping it. After about 10 minutes of fighting the fish, I knew that it might take more than me to land it."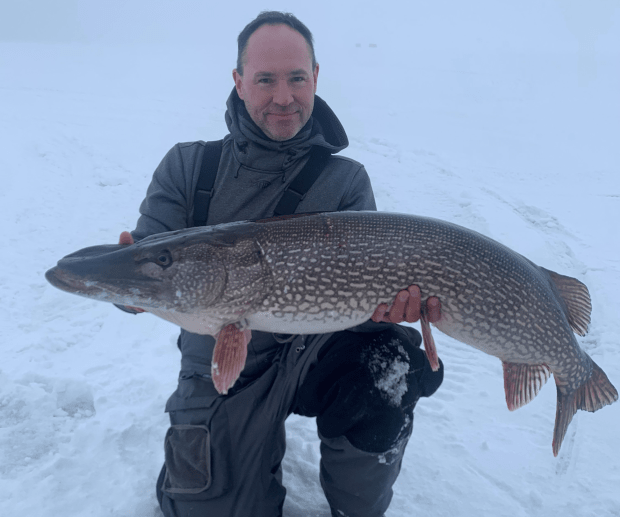 According to a news release, two nearby anglers rushed over to help Lila.
"Every time she would get near, a few inches of slush would come up and we couldn't see down the hole," Lila said. "An additional challenge was that my braided line would groove the bottom of the ice and when my knot connecting the fluorocarbon leader would meet the ice bottom, it would get stuck. I'd have to put my rod down into the hole to free up my line and then my line guides would freeze."
After about 30 minutes, he was able to get the fish through the ice and get quick measurements before releasing it back into the water. The fish was most likely a female that was carrying eggs before spawning.
"It was so satisfying seeing her swim away," Lila told the DNR. "I am so very appreciative of the state of Minnesota for supporting a catch and release [record fish] program.
"It's great to know that she's out there passing along those incredible genes and that someone else may have a chance of landing her someday."